Space Management
A Proper Understanding of your Workplace creates Operational Excellence.
A lot of the time and effort spent when managing office space goes to manual processes. With Accordant, the majority of these processes are automated. We can, on average, reduce the load that these tasks create by up to 70%.
Can I create visual reports of live information?
Understanding the types of workspaces and how they are used is critical when you need to answer difficult questions. Answering these questions can lead you to start to rethink your workplace, and provide recommendations for handling workspace changes to support your organizations approach to work.
Accordant can help to manage all types of space. Easily allocate space to business units, define hybrid workspaces, and quickly produce space allocation calculations at multiple organizational levels. We can upload your existing AutoCAD drawings and PDF's into Accordant and can manage any changes. This means that you will always be able to access clear floor plan visualizations. This feature provides a range of information including:
The types of Space you have
How that space is allocated
The size of individual spaces
The purpose of space in each building
Detailed information about each room and space.
Once all of these factors are defines, you can run a range of reports on all of these areas. We have a dedicated page that manages, creates and stores any report your company needs.
As you work to optimize your workplaces to attract, retain and engage todays employees, implementing pilot programs is becoming more important. Accordant will help you plan workspace trials and provides the tools to easily carry our observational studies to help you tune and refine spaces prior to role out. You can also help your team to feel safe by marking up your floor plans with Health and Safety related information. This will automatically be accessible to all users.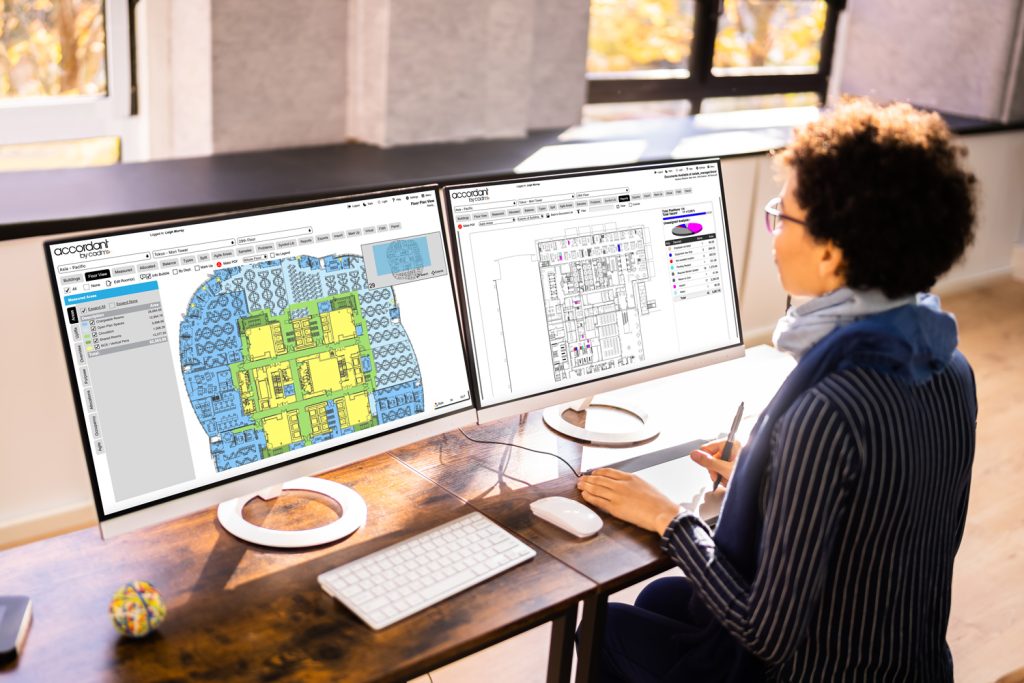 Vast range of reports on all aspects of your workspace that come as standard
Visual representations of a number of workspace organizing factors such as allocations, uplifts, overrides, etc.
Set up agile areas in minutes and achieve your flexible working patterns in no time
Let's talk about space management!